IAC Achieves 134% Frac Sand Production Rate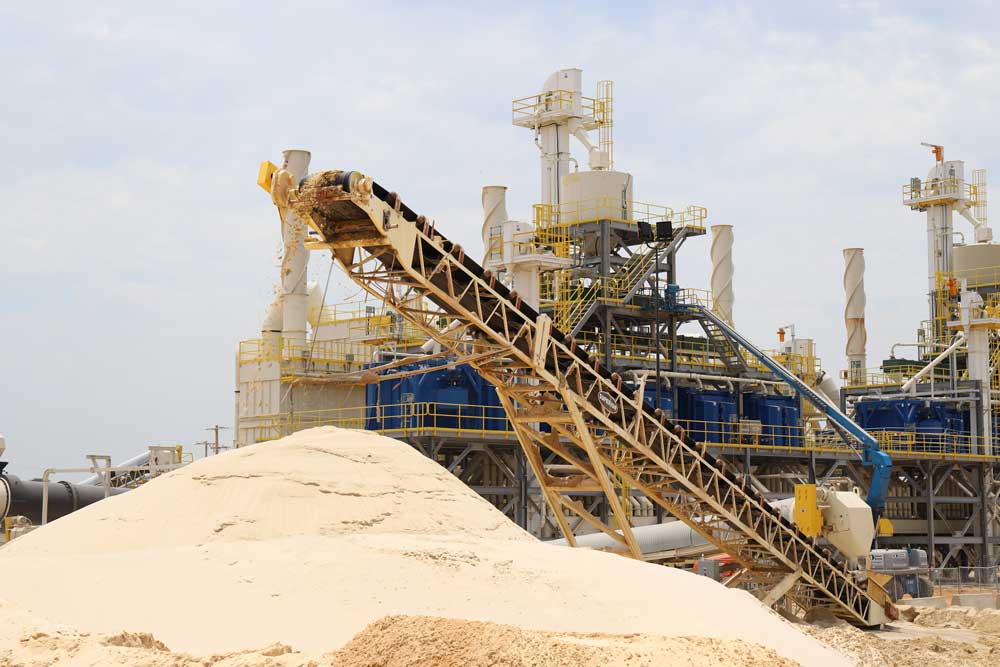 As recorded during compliance testing
MISSION, KANSAS, October 8th, 2018: IAC, one of the largest Engineering, Procurement and Construction (EPC) Design / Build contractors for the Frac Sand industry, has achieved a two day average production run rate of 268 tons/hour using IAC's patented Dual Feed, Rotary, Dryer / Cooler during performance testing. This 8 ft. dryer was rated to produce 200tph @ 3% moisture.
This increase was consistently delivered during a Texas state NSPS compliance test to permit the dryer under maximum production rate conditions. This was a big win for IAC's client. The testing was conducted at the higher production rate to establish maximum run rate with a clear stack. It was noted, that the stack test results were some of the lowest recorded at Frac Sand plants in Texas – 0.0017 grain/dscf vs. limit of 0.025 grain/dscf (93% below allowable NSPS Emission Limit).
"With our patented dual feed rotary dryer, IAC can now say we deliver an additional 34% production compared to other similarly rated dryers in the Frac Sand industry," said Glenn Smith, Chief Executive Officer at IAC, who went on to state, "The IAC patented, dual feed, rotary dryer/cooler system is also able to process wetter sand in excess of 8-10% moisture, eliminating costly bottlenecks for sand plants."
Each phase of the project included commissioning a new 1.5 MTPY plant. In total, the overall plant rating is 3.0 MTPY. Now, the client has been able to double their dry plant production.
The ingenious system leverages the inherent material characteristics to speed up the drying process. A secondary feed of moist sand is added into a second cooler inlet behind the dryer and blends with the dried, sand product. Evaporation of moisture from the moist sand produces a cooling effect on the total mass. The heat from the dried sand is used for drying the partial add-in quantity of moist sand. The required energy is significantly reduced.
Best of all, IAC's smallest sized patented frac sand dryer technology has proven to process wet sand with 8-10% moisture at a rate over 100 TPH, 5-6% moisture at over 160 TPH and in excess of 250 TPH with 3-4% moisture. This gives frac sand plant owners options to deal with a wide range of sand moistures to maintain the flow of production from feed to silo.
The dryer was selected based on the state of Texas limitation of 40 mbtu burner. IAC offers a complete line of dryers including up to 400 TPH drying capacity.
IAC is the OEM for all of the dryer equipment (drum, furnace, cooler and burner) including environmental equipment (baghouse, ash handling etc.).
About IAC: Founded in 1986 Industrial Accessories Company (IAC) is a fast-track, high-technology equipment, EPC Contractor that designs, fabricates, and installs plants and equipment systems to industrial manufacturing companies. As an Engineering, Procurement and Construction (EPC) contract provider serving numerous industries, IAC has delivered countless systems for a wide variety of trusting and satisfied customers. They are fully MSHA and OSHA compliant.