Deep Foundation Systems Construction: Formwork and Pilings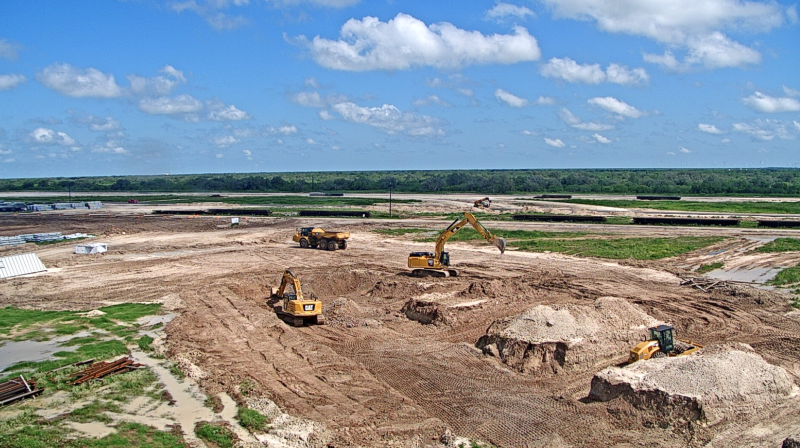 Forming and pouring concrete foundations over 10 feet deep requires careful consideration of many factors. These include the type of soil and its load-bearing capacity, the desired soil compaction levels, the dimensions of the foundation, and the thickness of the concrete. Additionally, the job requires experienced and qualified personnel with knowledge of industry standards and safety protocols.
IAC, together with our wholly owned construction subsidiary, Adelphi Construction LC, self-perform deep concrete foundation construction work of all sizes and levels of complexity including excavating, forming, installing reinforcement, pouring, finishing, stripping forms, and backfilling. We are known for executing heavy industrial concrete construction projects on schedule, within budget, and with the highest levels of quality. Our concrete work scopes include piers and piles, mass pours, flatwork, elevated concrete decks, and structural walls. We are not limited to simple foundations as is seen in the commercial concrete industry. Adelphi's seasoned concrete crews take accuracy to the next level. They can locate anchor bolts with high precision for clients that require tolerances less than a sixteenth of an inch.
Proudly, job site safety is our top priority. We have excellent EMR and TRIR ratings. In 2021, Adelphi's EMR (Experience Modification Rate) was .69, and since 2016, has averaged .70. Additionally, all of our concrete craftsmen go through extensive OSHA & MSHA training. All safety training documentation is uploaded to cloud based systems such as United Rental's United Academy Wallet Card system, so that records can be easily accessed with a QR code.
Soil Testing for Deep Concrete Construction Projects
IAC can provide full structural and civil engineering. The project soil must be tested by a local Geotechnical Engineer prior to the engineering. This ensures the soil can adequately support the weight of the foundation as well as the live and deadloads of the structure and equipment they are supporting. Depending on the soil's load-bearing capacity and the depth of the foundation, piers or caissons may need to be used to support the foundation. It's also important to achieve a proper level of compaction to reduce the risk of settlement.
We contract with local Geotechnical firms to test for compacted soil density, concrete slump, and concrete cylinder break test verification. These firms take concrete samples and test for slump before the concrete placement, then cast multiple cylinders, and allow them to cure for as little as 3 days and as much as 28 days to ensure it is safe to start building on top of them. Reports are provided for our records to document confirmation that all specifications are being met.
Formwork for Deep Concrete Construction Projects
Once the soil has been properly tested, formwork needs to be constructed to establish the desired shape and size of the foundation. We've chosen to standardize our work on Symon forming systems by Dayton Superior, which we both own and rent. For foundations over 10 feet deep, the formwork needs to be securely braced into the soil to prevent movement. Depending on soil conditions and weather conditions, we often place a mud slab to make the work more efficient. A mud slab can also be called a working slab or seal slab. It is comprised of three to four inches of unreinforced concrete. This slab is placed wider than the foundation so there is a secure area to work, and place bracing for the formwork. The formwork also needs to be designed to be strong enough to withstand the pressure of the concrete being poured.
Depending on contract requirements, after the formwork has been created, and before the concrete is poured, we contract with local surveying firms for third party verification of all form layout and placement. Let's not forget about one of the most important parts of concrete work, reinforcing.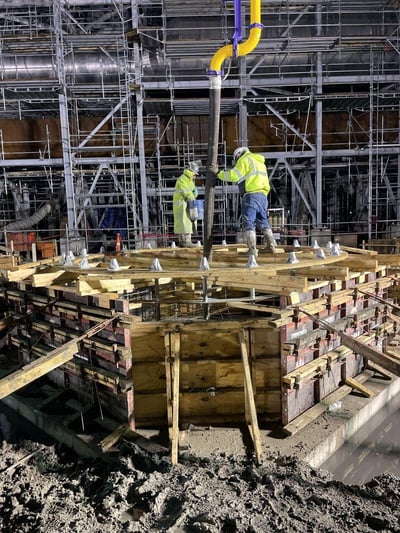 Concrete Reinforcing for Deep Foundation Systems
Structural concrete reinforcing is designed and specified by a structural engineer. The reinforcing, also called rebar, is used to strengthen the concrete so less concrete can be used to support the desired loads. The reinforcing is sized, spaced, and placed according to plans. All rebar is inspected and approved prior to pouring the concrete.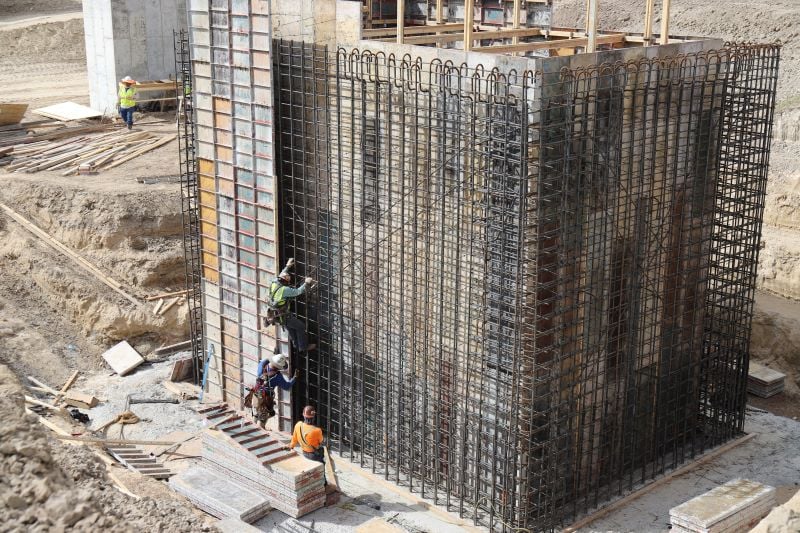 Anchor Bolts and Embeds for Deep Foundation Systems
Most concrete foundations require something to attached the structure above it to. This can be achieved by using anchor bolds and/or embed. Anchor bolds are typically threaded anchors that are sized by the structural engineer. Thee are used to secure columns and equipment to the foundations. Embeds are usually steel and are commonly plates with studs imbedded into the newly poured concrete. May things can be welded to the embeds to secure them. The embed studs and anchor bolts can also be placed after the concrete as been cured, and secured with epoxy.
IAC & ADELPHI CONSTRUCTION ARE FULL SERVICE CONCRETE CONTRACTORS FOR ALL TYPES OF INDUSTRIAL CONSTRUCTION PROJECTS. CONTACT US TODAY FOR A QUOTE ON YOUR NEXT PROJECT!
Pouring the Concrete for Deep Foundation Systems
After the formwork has been installed and secured, the reinforcing installed, and all embeds and anchor bolts are properly installed and double checked, next step is to place the concrete. This requires properly mixing the concrete to meet the engineer's specifications, and allowing the poured concrete to cure for a minimum of three days or longer, depending on the weather conditions. Concrete is poured using pump trucks at a consistent rate to ensure the foundation is placed properly. Concrete is vibrated to ensure no air pockets form, making it near flawless in appearance and performance.
Depending on the size of the project, concrete will either be transported to the job site via cement trucks, or for projects over 10,000 CY on remote job sites, we can supply portable mixing batch plants.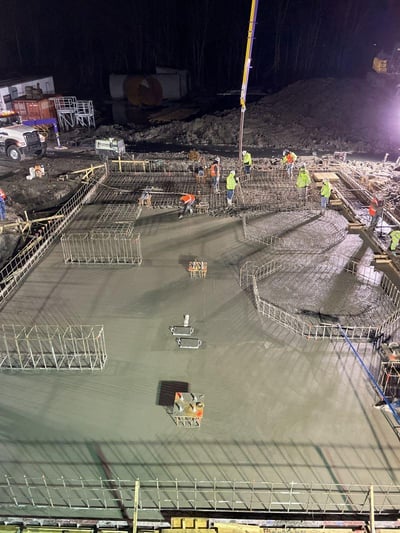 Finishing the Concrete for Deep Foundation Projects
Finally, the concrete needs to be finished. This includes troweling and polishing the surface, installing any necessary joint backing, and curing the foundation according to industry standards. After these steps have been completed, the foundation should be ready to proceed on to the next steps of building the structures.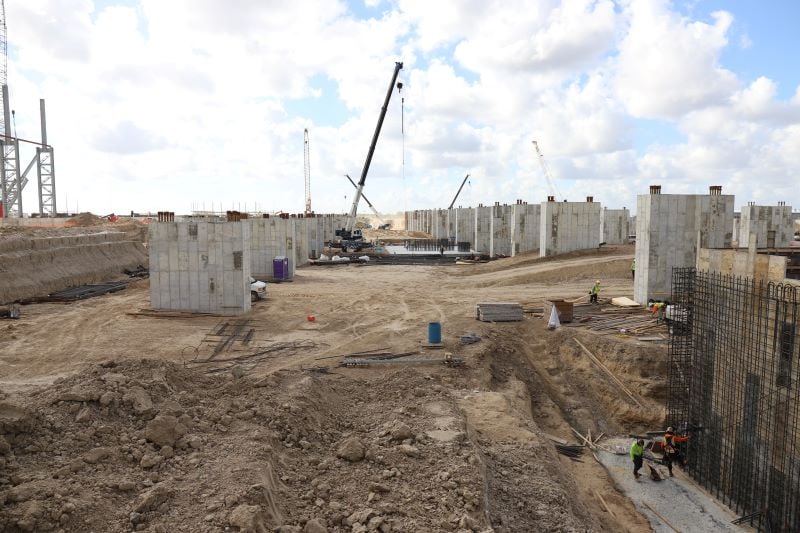 Nationwide Service for Deep Foundation Projects
IAC specializes in civil, structural, mechanical, and electrical engineering and project management. Our wholly owned subsidiary Adelphi Construction, LC specializes in job site management and construction crews. Adelphi's key supervisor has been in the concrete construction industry for over 20 years, and our craftsmen are full time concrete professionals willing to travel across the country. We can and will hire a portion of the crews locally as needed, but prefer our trusted, known quality experts be present on the job sites to ensure we deliver end results that meet and exceed our customer's expectations.
Depending on the size of the concrete construction project, which usually vary anywhere from 200 cubic years to 20,000 cubic yards, our concrete craftsman crews scale from a 4 person team, up to 200 professionals on a job site. Additionally, we have national accounts with White Cap, Caterpillar, and United Rentals, just to name a few.
You can view a variety of projects and case studies in our Industries Served section, or by visiting the Adelphi website.
If you've got a heavy industrial, deep foundation concrete construction project to complete, contact us. We'll start with a customer consultation to review your project goals, details, timelines, and expectations. You'll get a reasonable bid and a project timeline that you can trust.