24/7 response teams: maintenance Support for cement & lime operations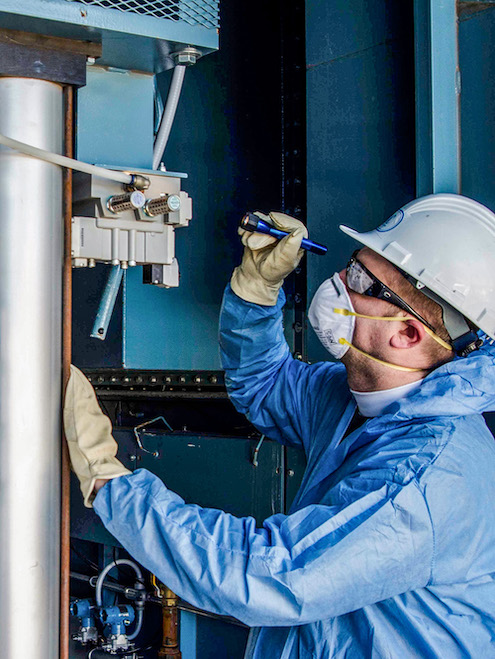 24/7 response teams: dedicated parts & service Support for Cement & Lime Operations
IAC's diverse and highly trained field service and engineering teams have extensive experience in areas such as Maintenance Services, Engineering and Mechanical Inspections, Process Equipment Installation, Pneumatic and Mechanical Conveyor Systems, Kilns, and Automated Controls Programming for Cement & Lime quarry, plant, and terminal operations.
Our teams are fully committed to providing 24/7 support in maintenance and operational assistance with Immediate Response & Emergency Service Crews available.
For after-hours support, dial IAC's main phone number at 913-384-5511 and listen for the prompt to be connected to our 24/7 Response Team.
Baghouse Services Team – The IAC Blue Crew
IAC's Baghouse Maintenance and Field Services Crew, the IAC Blue Crew, service all dust collection designs, brands and sizes.
All IAC crews supply their own support facilities and are able to work independently when necessary providing daily CDC Compliance Certifications. Safety is of the utmost importance to IAC and all Maintenance Crews are OSHA and MSHA certified with fully staffed teams and crew leaders nationwide, ready for immediate response.
IAC Baghouse Maintenance and Support Teams are here to provide solutions to all of your facility's maintenance needs, including Safety of Your Personnel, Inexperienced Staff and Time Limitations, Compliance Issues and Help to Decrease Production Downtimes.
Learn more about IAC's products and services for Cement Plants and Terminals by viewing projects on our Solutions for Cement & Lime Industry page.
IAC's Blue Crew Maintenance Personnel Can Provide the Following Services:
• Virtual Technical Support and Troubleshooting
• Dust Collection and Complete Equipment Inspections
• Maintenance Support, Including Onsite Fabrication
• Mechanical Inspections and Repairs
• New Equipment Installation
• Filter Bag Change-Outs
• Optimization Services
• Training Seminars
• Equipment Conversions
• Parts Supply including Installation
• Dry Sorbent Injection (DSI) Solutions
IAC's Cement Industry Consulting Services Include the Following:
Production:
• Production Audits
• Energy Audits
• Debottlenecking Studies
• CO2 Reduction Mapping
• Volatile Compounds and Build-Ups
• Refractory Failure Analysis
• Clinker Reactivity Studies
Process:
• Specific Equipment Capacity and Efficiency Investigations
• Heat Consumption Evaluations and Recommendations
• Power Consumption Evaluations and Recommendations
• In Leakage Studies and Elimination
Environment:
• CO & CO2 Emissions Reductions
• NOx Reductions and SNCR Optimization
• SOx Reductions and DAA / DSI Optimization
• Mercury Reductions and ACI Optimization
• Organics Reduction
• Dioxins / Furans Reductions
REACH OUT AND GET STARTED TODAY!