NRG Proppants Selects IAC | 1st Argentina Frac Sand Dry Plant Contract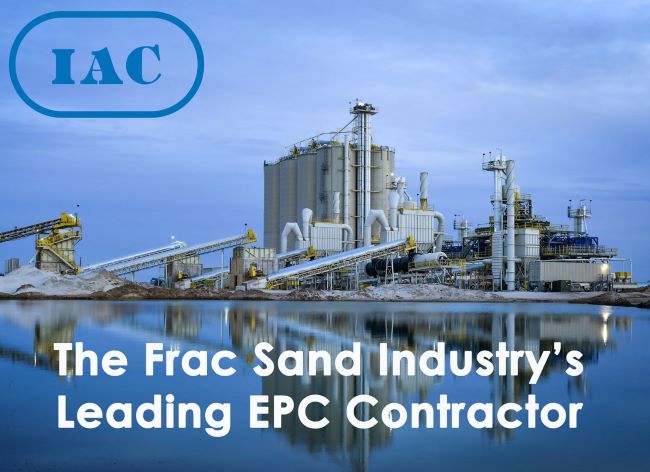 NRG Proppants Selects IAC for its First Frac Sand Dry Plant Contract in Argentina
Mission, KS – August 25, 2020 – Industrial Accessories Company (IAC) has been selected by NRG Proppants of Argentina (NRG) to engineer and design its new frac sand processing plant, and supply specialty equipment in the drying and screening processes.
The plant will be located in the nerve center of development of unconventional resources, in Vaca Mureta, and scheduled for operation early 2021. The plant will have state of the art drying, screening, and environmental technology, including IAC's patented dual feed rotary dryer. IAC is also providing overall engineering and technical support, including commissioning.
Having the COVID-19 virus to deal with has definitely added some challenges to the contracts, but, IAC has been able to deliver on its commitments, on schedule. This contract signifies successful growth in IAC's global reach as a leading EPC provider of frac sand and industrial operations, in support of Argentina's potential and evolving O&G markets.
IAC Vice President Mike Sedler, who has led the company's expansion into the global frac sand market stated, "The proppant industry relies on proven performance when selecting a partner contractor. With over 40 successful Frac Sand projects, IAC's team is happy to be selected as one of NRG's partners in delivering this new plant in Argentina".
As stated by NRG's President, Cesar Guercio "Contracting with IAC for our frac sand plant was an easy decision as we wanted to work with the best team and use the best sand drying and processing equipment available. As a bonus, IAC self performs engineering, project management, fabrication and is the OEM for much of the equipment in the drying circuit including environmental controls."
About: IAC and its subsidiary, Adelphi Construction, LC is a 33-year-old EPC Contractor providing OEM Air Filtration & Material Handling Products and Services, and other unique OEM Equipment such as patented Sand Dryers for the Frac Sand Industry. It has 300 employees located in USA, Mexico, Brasil, and Argentina, annual sales of more than USD $250 million. For more information about IAC please visit our website at iac-intl.com.