Quick Maintenance Benefits Bottom Line for Plant
IAC's Permian Basin Service Team isn't afraid of hard work or long hours. Twelve members of the service team recently completed a 2,800 filter bag changeout, throughout 4 different 700-filter baghouses, 2 days ahead of schedule, and saved the facility thousands of dollars in lost revenue.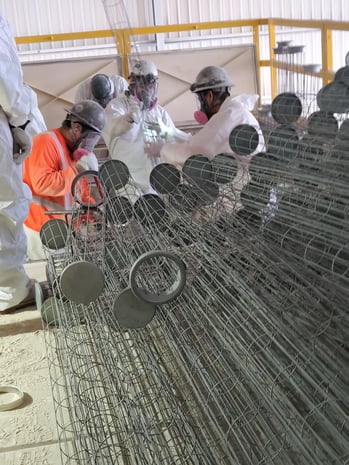 Jason "Willy" Willmarth, Field Solutions Manager, said changing 2,800 bags alone usually takes 6 days with a team of 4 to 6 men working 12-hour shifts, and any additional repairs or replacements would add extra days. By shutting down one baghouse at a time, the facility remained partially functional. The strategic shutdowns allowed the two 6-man service teams to work round the clock in 12-hour shifts in each baghouse. When a baghouse is down, it can cost approximately $40,000 an hour in lost revenue, so time is of the essence.
Willmarth credits the service teams and their strong understanding of production-based maintenance services, as well as how having a sand drying production line down for maintenance affects a facility's bottom line, as the major drivers behind their quick work.
"We understand down time is lost revenue for the customer and treat it that way by being as efficient as possible. We were able to source and [procure] parts in a timely manner," he said.
Willmarth said this was the facility's first scheduled filter bag and cage changeout with IAC for their four top load pulse jet baghouses. However, when demand for sand unexpectedly slowed in the area, Willmarth was able to move the job forward almost a month. An oil well had likely experienced a "blow by," or when the pressure from in the well exceeds the downhole pressure of the sand being introduced and puts the well off line for a time.
"The lower demand causes trucking to slow and results in full silos," said Willmarth. "This allows the process plant the ability to idle a dryer attached to the baghouse in question. They also had a fan [malfunction] which was creating a bad flow."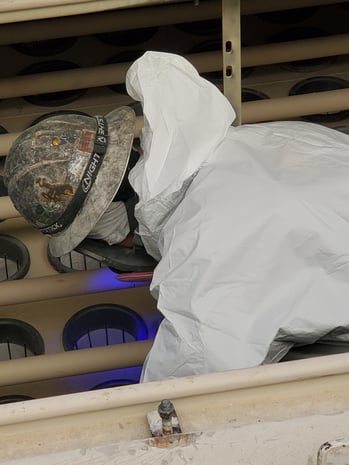 The replacement of the Induced Draft (ID) Fan corrected an improper airflow which had been introducing too much tramp air and emitting dust, causing the plant to experience an increase in emissions. Willmarth said the fan was not the only unexpected additional maintenance matter IAC's service team experienced.
Upon entering the baghouses, they found broken bags, which resulted in the buildup of sand inside the baghouses. Willmarth said the damaged bags were likely the result of a poorly balanced system, which explains the need for the facility to change out 20 to 30 bags a week before calling IAC. Cleanup of the sand required the use of a vacuum truck to collect and redistribute it to proper storage areas. The team also replaced a number of damaged popper valves.
IAC's Permian Basin Service Team worked quickly to help our customer minimize lost revenue due to downtime, plus improve production efficacy going forward. With the filter bags already ordered, and IAC's unparalleled supply chain at his disposal, Willmarth said he reached out to various sources and partners and was able obtain the required valves and ID fan quickly.
"Strong communication with the local plant management helped to ensure we adhered to the tight timelines and got them back into production. Things went smoothly, they were very happy," he said.