Large Scale Dust Collection Systems for Greenfield Applications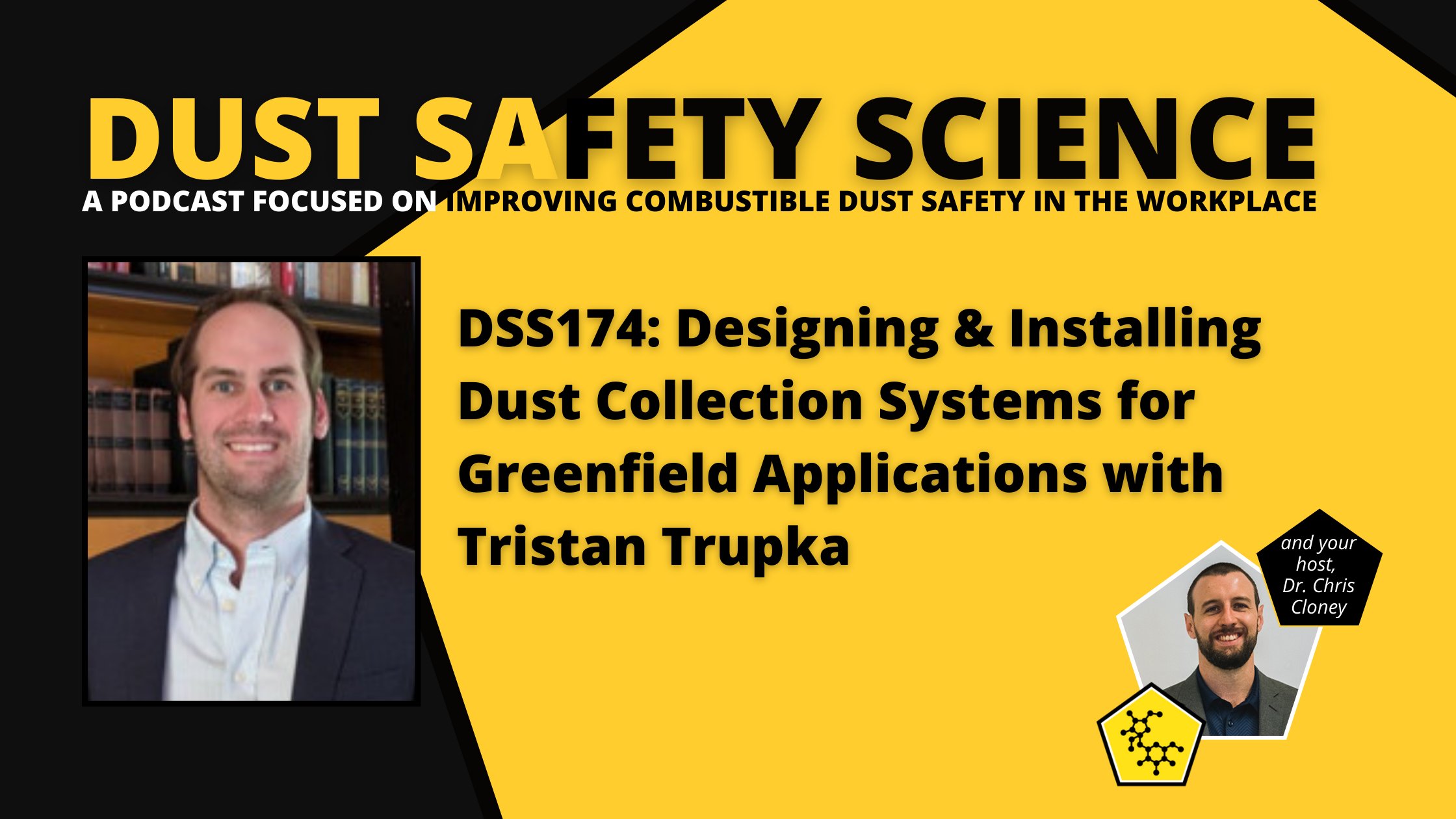 IAC's Vice President of Engineering, Tristan Trupka, recently was a guest on the podcast, "Dust Safety Science". The show discusses process systems and combustible dust safety with host Dr. Chris Cloney (PEng.), an esteemed expert in the field. Dr. Cloney has presented at academic conferences in over five countries, published over 15 peer-reviewed journals, and now focuses on educating industrial workers on best practices for handling combustible dust safely.
Tristan was the guest on the podcast's 174th episode, yet he was the first person able to tackle the topic of building extremely large, new baghouse dust collection systems for greenfield applications. The episode begins with Tristan giving an overview of his position, explaining that he supervises 55 Kansas City based design engineers (with mechanical, structural, electrical, control, and automation disciplines) and approximately 15 project managers in North, Central, and South America. The following summarizes what Tristan shares throughout the show.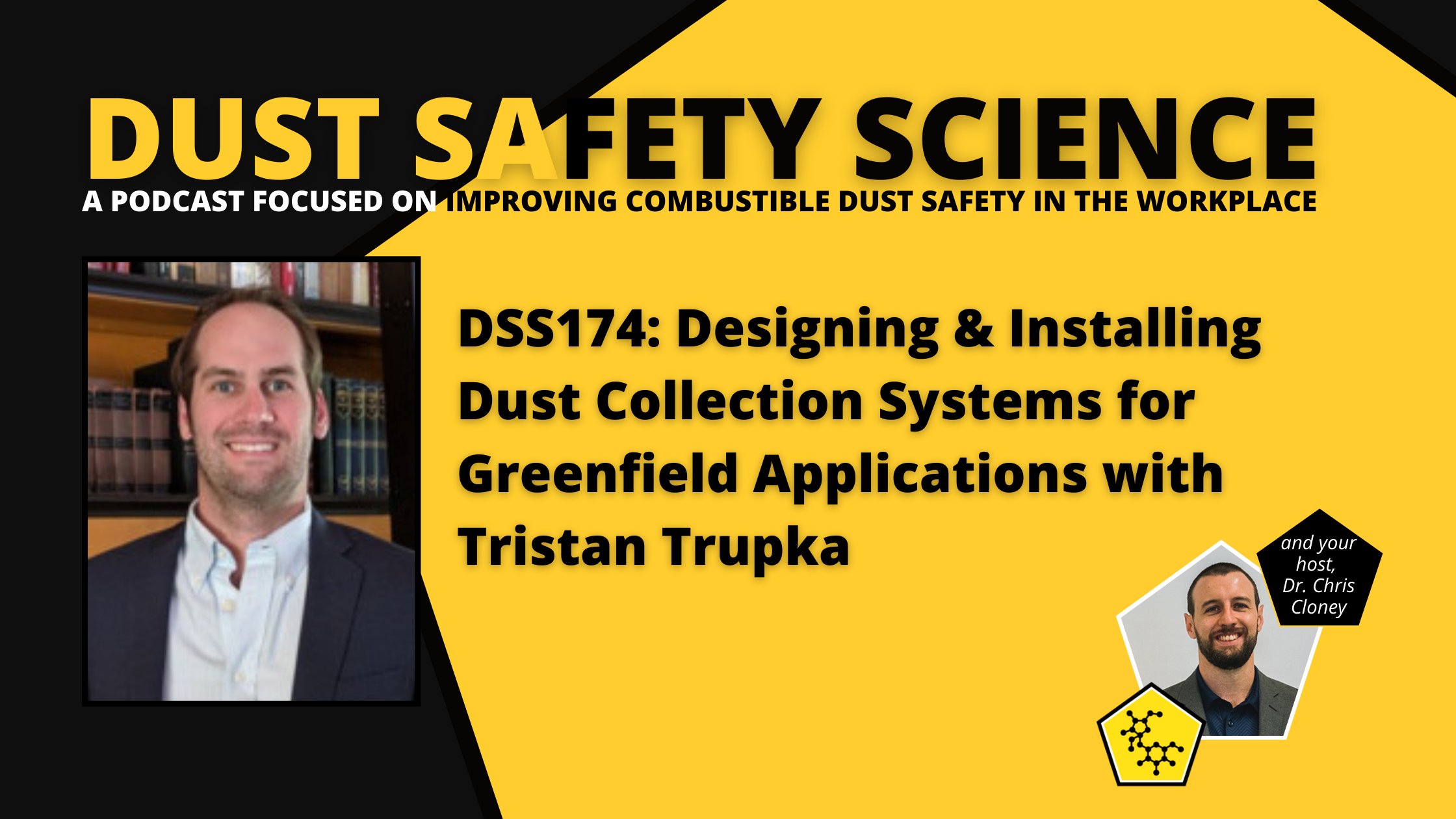 What Stage of a Facility's Development Should Include Designing a Dust Collection System?
Because baghouses are so integral, it is key to start considering them in the planning process from day one. Ideally, long before a shovel touches the ground, an engineer would work on the front-end engineering design (FEED). FEED includes creating process flow diagrams, PIDs, and site plot plans. The intricateness of a greenfield project increases the importance of having a company like IAC involved as soon as possible. Tristan took a moment to explain the types of baghouses used by facilities:
There are two main types of baghouses: process and nuisance. A process baghouse is required for production, so if repairs were needed, production would be slowed or stopped. Depending on the industry, it's likely that a process baghouse will service every cubic foot of flue gas, or every ton of material produced at the plant.
For example, in the cement industry single-pass separators are used to circulate cement that has been ground down. Large material is sent back to the mill for further processing. The finer material is carried with centrifugal forces to the baghouse, which separates the fine dust from the exhaust gas stream, and sends it to storage, or to be dispatched. More specific categories of process baghouses include flue gas from a boiler, furnace, or heavy industrial equipment.
Nuisance baghouses collect dust created in other ways which may then be collected and properly disposed of, caught and recirculated, or possibly a bit of both. No matter the type of baghouse needed, a dust control expert should be included in the planning from the start.
🎤Review
:
What Stage of a Facility's Development Should Include Designing a Dust Collection System?
🗨️ Answer:
Day one. Involve a dust collection expert in FEED as soon as possible- especially for greenfield projects.


What Steps and Special Considerations Are Required for Large Systems?
In the initial stages, IAC collaborates with permitting employees, sizes the required ventilation equipment and baghouse dust collectors, and communicates step-by-step with the company erecting the facility. When compared to furnace providers, mill equipment, and other product machinery, dust collection is often an overlooked component of the building process for large projects. However, a baghouse is often the single largest piece of equipment in a given facility, both in size and cost, depending on the industry.
A common misstep is not involving a dust collection specialist up front for EPC projects. If these experts have not been involved by the time a company begins site planning, there could be major space compromises down the road. While this is true for every new facility, it is especially important for large greenfield builds. Improper space planning can lead to many issues, including creating fire and explosion safety hazards, which leads to efficiency losses.
These losses are caused by bottlenecks unknowingly created by originally designing a footprint not large enough for the process equipment, plus the ventilation and air pollution control (APC) equipment, to go in. These space concessions and efficiency losses can be avoided if a company like IAC is involved at the start of the process.
As soon as a company has decided in which state (or country, or region) their project will be located, IAC can begin assisting with the project. Once location is determined, and before ground is broken, IAC will prepare data and information relevant for that region's specific permits, including the cfm of emissions per area of the plant, and the height and diameter of the fan stacks. IAC makes certain that environmental standards including state, federal, and EPA regulations, are met throughout the planning process, as well as during fabrication, on-site equipment assembly, construction, and even after we've left the work site. We help customers continue to meet air quality regulations after the facility goes online by ensuring the equipment we provide is top of the line in reducing air pollutants and emissions; assisting companies to achieve their sustainability goals, and continue passing environmental inspections.
Recently IAC designed, constructed, and installed the dust collection and ventilation systems for a new greenfield steel mill in Texas, the size of many football fields put together. IAC's wholly owned specialty industrial construction firm, Adelphi Construction, was the first contractor on site to break ground and begin pouring our own foundations. The scope of the project was huge: two large reverse air baghouses (each baghouse filtered 1.65 million cfm, totaling 3.3 million cfm), each measured 240 ft. long x 80 ft. wide (with about 30 ft. of distance between them), totaling around 250 feet square, plus 22 ft. diameter duct work coming in, and 26 ft. diameter fan stacks going out. After months of challenging work by all persons involved, the facility was completed, the customer was thrilled, and IAC celebrated a job well done at the grand opening in February.
This is the "bread and butter" of IAC! We can support a client from the moment a problem is shared, through the entire project: designing, permitting, engineering, fabrication, installation, exceeding environmental standards, and commissioning. Whether you need support with one section, or want one company to take on everything, IAC can help. When not hired to do turnkey work, we have had remarkable success working as part of a larger team and communicating with owner's engineers and other contractors.
🎤 Review
:
What Steps and Special Considerations Are Required for Large Systems?
🗨️ Answer:
Involving a dust collection expert ASAP helps avoid major space planning issues down the road. Working with a full EPC provider like IAC also helps avoid these concessions.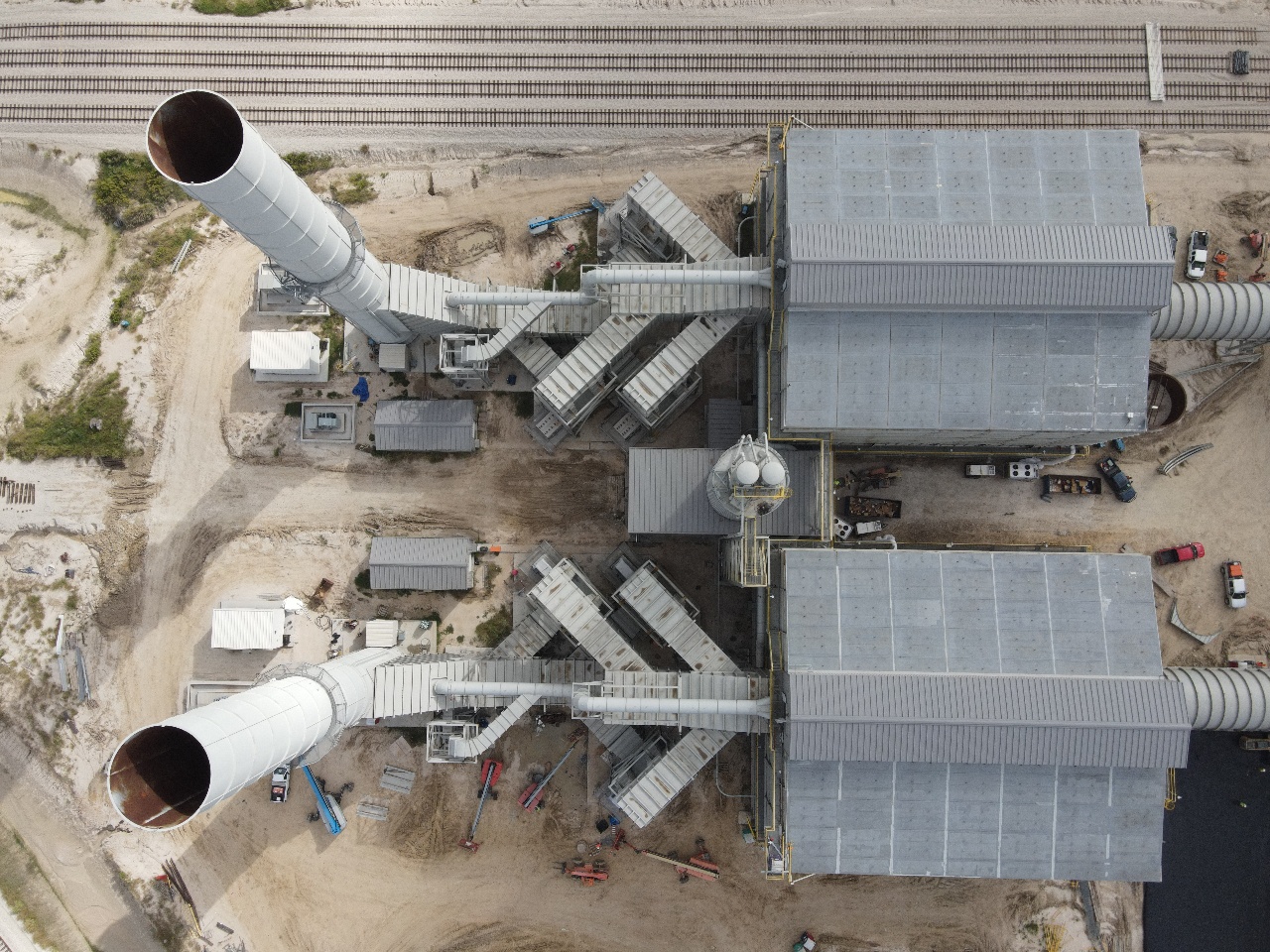 An overhead view of the new dust collection and ventilation systems IAC & Adelphi designed, fabricated, and installed in Texas.
What Are Common Challenges When Transitioning from Design to Build and Installation?
One challenge is logistics. For example, if a needed piece of equipment has the measurements 240 ft. long X 80 ft. wide X 65 ft. tall, how does it get manufactured and transported to the site? Are there road considerations like a low bridge or overhead wires? Over-the-road shipments are usually only legal up to eight or eight and a half feet wide, which is not practical for the scale of many large baghouse dust collection projects.
Barge (transport via boat) and rail (transport via train) are usually "best-case scenarios" because a piece can be made in the controlled environment of a fabrication shop and shipped, rather than constructed on-site, outside. This is beneficial on a number of levels: service crews spend less time on the road away from their beds (a mood booster and money saver), the entire production process is more controlled for quality assurance, and this control leads to consistency. Since a fewer number of larger pieces need to be shipped, the projects proceed more safely and quickly, and have lower environmental impacts. This results in less to keep track of and less to put together- the advantages compound!
IAC worked on a project this year where shipping via a river barge was the perfect transportation. The job site was located near a river in Kentucky, so instead of performing metal fabrication at our own facility in Kansas, we partnered with a fabrication facility in Mississippi that had access to a port on the same river. With the impressive collaboration of IAC and the Mississippi fabrication shop, our team was able to barge the giant, shop-welded pieces in approximately three months and only seven trips. The fan stacks alone were 60 ft. long and 28 ft. in diameter, and weighed from 30 to 48 tons! Creatively partnering and barging was the most cost-effective option for the customer, safest for the crew, and had the smallest overall impact on the environment. A project like this also displays the quality of IAC's engineers, given their ability to partner with and design for almost any builders.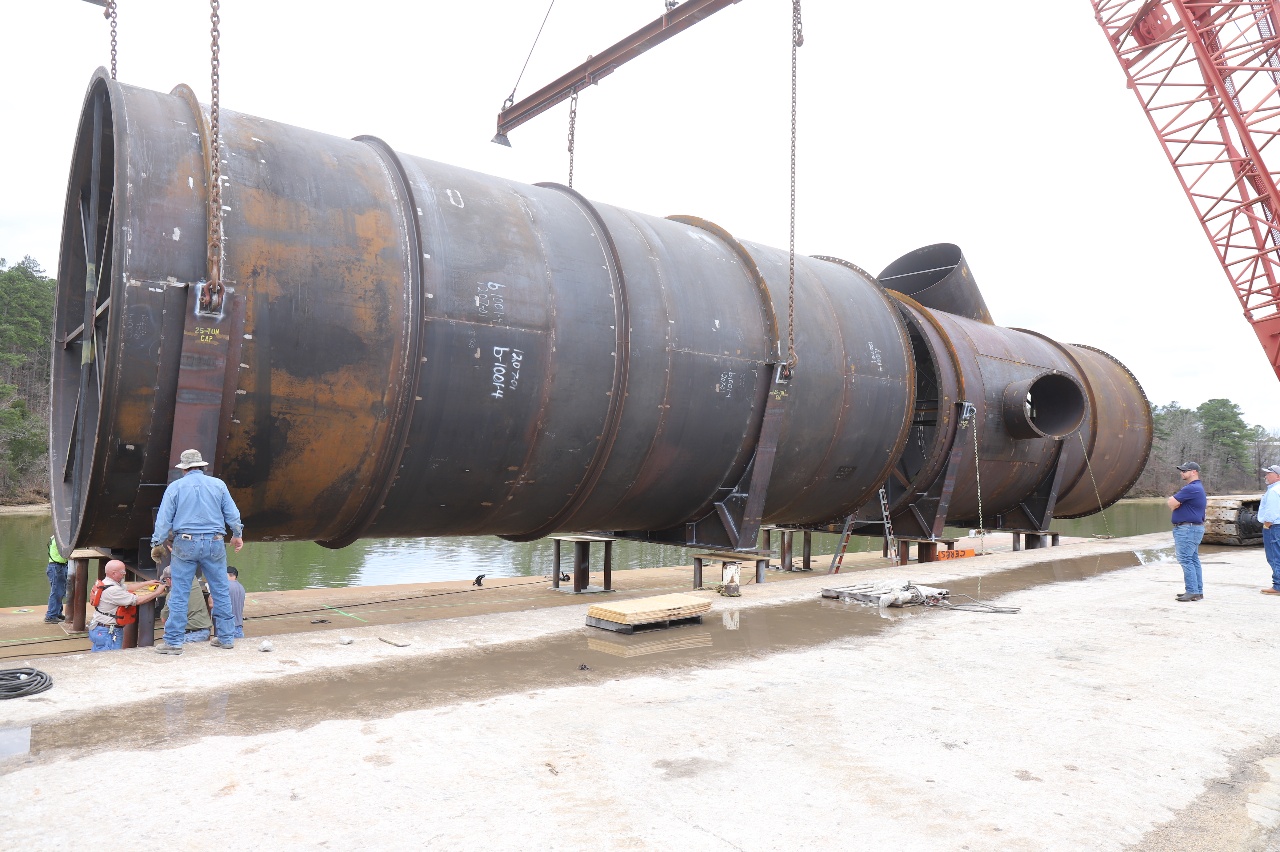 IAC collaborated with a Mississippi fabrication shop, and carefully placed the giant fan stacks to be barged down the river.
The speed and efficiency of this project truly highlight that the more components need to be assembled on-site, the more the work is subject to environmental and other factors that can't be controlled. IAC's crews have had to determine when to work through difficult encounters and when to pause work for employee safety. The Blue Crew has worked through not just inclement weather like rain delays, but also hurricanes, flooding, and extreme cold. Thankfully, our project managers and construction crew members have the experience to make the right calls in those extreme circumstances.
Experience has also given IAC employees the insight to know the importance of timing. The logistics of getting the right pieces to the site, when you need them, without inundating the site with tons of products to organize, store, and laydown. Our project managers know to avoid these issues by coordinating with production control and fabrication facilities. Tristan notes that it's key to, "build projects with just-in-time delivery… so things are picked off the delivery truck, and can be set right in position." This of course, is harder to coordinate if the dust collection company is not included from beginning.
🎤 Review
:
What Are Common Challenges When Moving from Design to Build and Installation?
🗨️ Answer:
Logistics. Planning how to minimize the number of pieces that need to be assembled on site and using ideal transportation modes, as well as having a "just in time" delivery approach.
What Should Companies Keep in Mind During Initial Planning for Success in the Future?
When asked what companies building new facilities can do in their initial plans to think about the future, Tristan re-emphasizes the importance of space planning, and adds that plants can "future-proof" their designs by having better and quicker maintenance access. This accessibility needs to be thought of in terms of practical application. For example, on their daily plant walks, maintenance staff will check the most convenient data points more frequently than ones out of the way, such as a lone bin vent on top of a 180-foot-tall silo that's only accessible by ladder. In applications like that, which are sometimes impossible to avoid, it's necessary to plan ahead for limited access and utilize tools like remote monitoring sensors. This equipment brings signals down to a central location, accessible online without needing to be physically checked. (IAC's Joe Haney will be on this podcast in the future to further explore this topic and IAC's Smart Plant remote monitoring equipment.)
The podcast concluded by noting what unusual times these last few years, and even months, have been with regard to the global supply chain issues, market volatility, logistic and shipping times, parts and labor shortages, and all the other unprecedented obstacles from the last few years and new in 2022. The best way to face these challenges echoes a theme from throughout the episode, creative partnership and partners who are creative. Companies need to be innovative in their processes from warehousing to partnering; especially to meet the needs of greenfield projects, given their size and budgets. Timelines may feel harder to predict and today's market may have more backlogs than has been seen before, but working with IAC during a project or plant build provides the stability of one stop shop, turnkey business, and saves the end user stress, time, and money.

🎤 Review
:
What Should Companies Keep in Mind During Initial Planning for Success in the Future?
🗨️ Answer:
Prioritize quick maintenance access and utilize tools like remote monitoring sensors when space planning. Also, partner with companies creative enough to solve any problem.
Listen to the full podcast here: https://dustsafetyscience.com/designing-installing-dust-collection-systems-for-greenfield-applications-tristan-trupka/